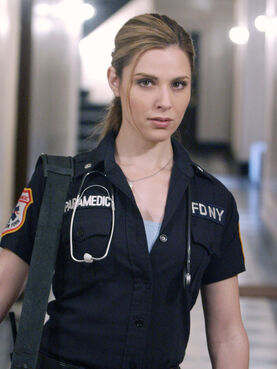 Grace Foster is a paramedic of the FDNY. She was portrayed by Cara Buono and lasted throughout season five to the show's final season.
---
Biography
Not much information is given on Grace, but she has a mother, Annie, who was a war nurse who later became a homeless woman with a heroin addiction. She became addicted to morphine while working in Vietnam. Grace tried to take her mother home, but she ran away. She used to work at the 6-8 in Bed-Stuy before being transferred to the 5-5. In the series finale, Grace married Officer Brendan Finney and is expecting her first child with him.
---
Personality
Grace appears to have a "tough-as-nails" personality and referred to the 5-5 as a "country club" before Carlos set her straight. At Mikey Boscorelli's funeral when a bomb goes off at the funeral home, she breaks the rules in order to save Rose Boscorelli's life.
---
Family
Annie Foster (mother)
---
Relationships
Officer Brendan Finney (husband)
---
Children
(expecting first child with Brendan)
---
Community content is available under
CC-BY-SA
unless otherwise noted.