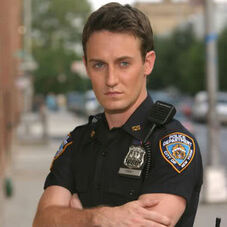 Officer Brendan Finney is an NYPD police officer who worked at the 55th Precinct. He was portrayed by Josh Stewart in the final season of the show.
---
Biography
Brendan is the son of Cathal "CT" Finney, who was a captain in IAB. Brendan deeply admired his father, although at times their relationship was not that close he still loved him. It was his father who first taught him to shoot when he was young.
Brendan's father was involved in the death of Ty Davis' father, Tyrone Sr., many years before the series began, and as such Brendan was met with much hostility from John 'Sully' Sullivan, who knew the truth about the death. Brendan however did not know of this. As a probationary officer he was teamed with Ty, and despite a few initial hiccups after starting (one of which was a death notification) the two bonded. Finney had a romantic interest: FDNY Paramedic Grace Foster, who worked across the street at the firehouse. After killing a guy who was attacking Grace and her partner, Carlos Nieto, the two became distant but soon started speaking again.
When the truth about Ty Davis Sr's death came out, Cathal Finney decided to commit suicide. He called his son and told him he loved him, which tipped Brendan off that something was wrong. In a case of history repeating itself, Brendan begged Ty to help him make the death look like an accident so that his mother could still claim a police pension - just as had been done with Ty Davis, Sr many years before.
After the series ended, Brendan and Grace got married, and were expecting their first child together just before their first anniversary. Brendan was transferred to the 5-3 with Ty Davis to work in an Anti-Crime Unit. Within a few years he was promoted to the rank of Sergeant, under the now Lt Davis' command. They have the best arrest record in the city.
---
Personality
Brendan comes from a long line of cops, and regards it as "the family business." He's a bit rough around the edges and often has attitude problems. In his spare time he likes to box, and is also a good shooter.
---
Family
Cathal Finney (father) [deceased]
Marion Finney (mother)
Jenny Finney (sister)
Mark Finney (brother)
---
Relationships
Paramedic Grace Foster (wife)
---